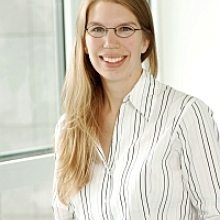 Head of the Protein Technologies Facility
Vienna BioCenter Core Facilities GmbH (VBCF)
"Being able to balance family and career should be a concern for everyone, regardless of gender."
Peggy Stolt-Bergner is head of the Protein Technologies Facility and authorised representative of Vienna BioCenter Core Facilities GmbH (VBCF), which provide scientific services and state-of-the-art research infrastructure to academic research institutions and companies in the field of Life Sciences. After undergraduate studies in the US and her PhD at Harvard Medical School with Stephen Blacklow, Peggy moved to Germany for a postdoc at Max Planck Institute of Biophysics, where she was a member of a structural genomics team screening over 200 prokaryotic and eukaryotic membrane proteins. After 5 years as IMP Fellow and principal investigator at the Institute of Molecular Pathology in Vienna, she decided to take a job as facility head.
Why have you chosen your current career path?
I would say that my path to becoming a core facility head and focusing on research infrastructure was something that happened without a lot of planning. My contract as an independent fellow at the IMP was ending in 2011 and there was a lot of uncertainty surrounding what to do next. I was applying for jobs in a lot of different areas, and the job as core facility head was the one I decided to take.
During my time at the IMP, one of the senior scientists once told me that I had to decide if I wanted to be a biologist or a technologist.  At the time I thought, well, obviously, I want to be a biologist. But when I think back on it now, the scientific projects that interested me most always had a strong technology component, and being a technologist fits my interests much better, it just took a long time to realize it.
What/Who has inspired you most to follow a career in science?
A lot of my relatives are scientists or were studying science while I was growing up, so I had a lot of exposure to science and developed an interest in biochemistry early on. I chose the university where I did my bachelor's degree primarily because of the availability of research opportunities for undergraduate students, and after that there was no looking back.
Science is the most exciting career I can imagine.  Science and technology are what drive advancements in our society, and to be part of the discoveries that lead to those advances is an incredible opportunity. It was wanting to be a part of those discoveries that inspired me most.
What may have led you to give up?
If you asked some of my former colleagues, they would tell you that I did "give up", because I am no longer running an academic research lab! The academic path is actually the one that only a minority of students will end up taking, yet there is still a strong bias in the academic world that considers running your own academic lab as the best job one can have, and therefore the only one worth pursuing. But this is simply not true, there are opportunities outside academia that are very exciting. I now see a much wider diversity of research projects than I did when I had my own lab, and am much more aware of technological developments in the field.
I think the most frustrating thing about jobs in science is the high level of uncertainty when one spends years working on short-term contracts, often coupled with the need to relocate every 3-4 years to accommodate one's own or one's partner's career. But I think this is true in many other fields as well, not just science, so "giving up" would not necessarily solve that problem. It was a relief when my husband and I were both able to find new jobs in Vienna after both our contracts were ending in 2011.
What is the greatest challenge for you in your career?
I think the greatest challenge now is that there are so many roles that I have to master. I have to be a good scientist, but also a good team leader, business manager, etc. The activities of a core facility head are very broad.  One day can include planning projects together with users, working in the lab, reviewing business contracts, checking that our budget will remain balanced over the year, and scouting for new technologies.
What was the best thing you did to advance your career?
I have always tried to work at places with top quality people and resources, to be able to make the most of my time there. It is essential to seek out the best environment possible in which to learn science and scientific thinking that also fits your interests, but also be willing to leave a certain environment when being there is not going to be productive.
What is the one thing you would change to support women in science?
Whenever there is a discussion about gender inequality it is described as primarily a problem for women. Similarly, any discussion about balancing a career with family is seen as affecting women. Being able to balance family and career should be a concern for everyone, regardless of gender. In addition, any inequality in representation, whether it is race, gender, religion, or sexual orientation, affects all scientists. When the demographics of science do not reflect the demographics of society it increases the risk of bias in the approaches we take and the research questions we choose to study. I would like to see this aspect of the discussion change, in particular at the management level. Institutes and companies should say inequality in science is an overall problem, and we all need to acknowledge it and think about it, not just women or other underrepresented groups.